How Volkswagen, General Motors and Toyota Were Started
Volkswagen
---
Volkswagen, commonly known as VW, is a German automobile manufacturer and the largest automaker in the world. Founded in 1937, VW has become an iconic brand that is recognized around the world and is known for its reliability and affordability.
Volkswagen was created in 1937 and was originally run by the German Labor Front. Prototypes for the KdF-Wagen appeared in 1936, and the vehicle had the trademark Volkswagen round shape and a rear-mounted engine. By the time World War II had started in 1939, the company had constructed a new factory in modern-day Wolfsburg, which was specifically built for factory staff who would be working there. There were only a handful of cars in production during this time. Instead, the company built equipment for the war effort, though production had changed from cars to military vehicles.
Meaning the "People's Car Company", Volkswagen was based in Wolfsburg, Germany, and after World War II ended, the Allies would make the company the focus of their plans to revitalize the German car industry. Although the cars didn't catch on with the American public at first, over time the car brand became one of the best-selling auto imports in the US.
One of the most iconic cars that the brand has ever produced is the Beetle, which has pretty much remained the same in design since it was first launched in 1935. There have been several different versions of the car over the years, and the vehicle has become synonymous with the Volkswagen brand. In fact, by the 1970s, the Beetle had surpassed the world record of the most number of cars in production, a record previously set by the Model T from Ford between 1908 and 1927.
The whole story of Volkswagen Group can be found here: http://www.volkswagenag.com/content/vwcorp/content/en/the_group/history.html
All in all, Volkswagen continues to be an influential leader in the automotive industry worldwide due to its long list of accomplishments ranging from innovative technology to sustainable initiatives. With an eye toward continued success in the future, it's clear why Volkswagen remains one of the top auto manufacturers today.
General Motors
For over a century, General Motors has been a leader in the automotive industry. The company has grown to include two of today's largest automotive manufacturers, Chevrolet and Cadillac. With its corporate headquarters located in Detroit, Michigan, and 330,000 employees in over 160 countries around the world, General Motors is a global powerhouse that produces millions of vehicles each year.
General Motors was founded in 1908 in Flint, Michigan, then controlled by William Durant. Although there were fewer than 8,000 cars in the United States at the turn of the 20th century, Durant soon began to change this, having been a leading producer of horse-drawn vehicles. Charles Stewart Mott was the company's co-founder, who owned a carriage company that was soon merged into General Motors.
General Motors quickly differentiated itself from other companies like Ford. Instead of just producing one vehicle (like Ford did at the time with the Model T), General Motors created a plethora of cars for different demographics. Within the first two years, several different companies were merged into General Motors, such as automobile makers like Cadillac and Oakland. Supplier firms and an electric company were also merged.
Purchasing several different companies proved expensive for General Motors – who at the time, were a new business trying to establish itself. Durant was forced to quit in 1911 and started a new automobile company with the Chevrolet brothers. By doing this, Durant was able to buy enough stock in General Motors to gain control of the company in 1916. However, he was forced out of the corporation again four years later and spent his later years as a manager of a bowling alley in Flint. General Motors, however, would continue to dominate the American car industry for decades.
Read the full history of General Motors on their official site here: http://www.gm.com/company/historyAndHeritage.html
This iconic brand comes with many impressive offerings like the Corvette sports car, reliable SUVs like the Blazer and Tahoe, or the utility-based Colorado ZR2 pickup truck. It also offers electric vehicles such as the Bolt EV, which has a range of up to 259 miles on a single charge. Chevrolet's lineup remains strong and continues to draw in customers year after year.
By continuously expanding its portfolio while leveraging technology to create safer and more efficient vehicles, General Motors has solidified itself as one of the world's leading automotive companies with no signs of slowing down any time soon.
Toyota
Toyota Motor Corporation is a globally recognized automotive manufacturer and one of the largest car companies in the world. It is renowned for building vehicles that are reliable, efficient, and affordable. Founded in 1937 by Kiichiro Toyoda, Toyota has grown to become a global powerhouse in terms of its presence in the automobile industry.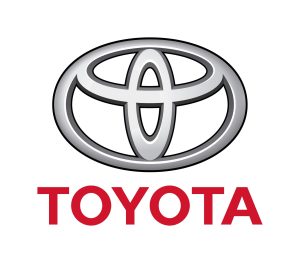 The history of Toyota takes us back to the weaving industry in Japan. The first automatic loom was created by Sakichi Toyoda, who later established the Toyoda Spinning and Waving Company. The invention was effective in increasing yields and reducing defects, and these principles are still used by car companies today when manufacturing motor vehicles. The Platt Brothers bought the sales and production rights of the loom, with proceeds going to Sakichi's son to develop new automobile technology. This would lead to the first car produced by the company.
Toyota soon started the development of the G1 truck, which the company hoped would be extremely profitable. Once this vehicle was in production, the company focused its efforts on the AA and AB passenger cars. The Model AA was created in 1936 and became an instant success. Three prototypes for this vehicle were created in 1935, although none of them have survived. It is believed that they were blessed in a Buddhist ceremony before Sakichi's son drove one of the cars to his father's grave.
In 1936, the company ran a competition for the public to create a logo. There were nearly 30,000 entries in total, with the winning entry comprising three Japanese letters in a circle. There was a preference for "Toyota", rather than "Toyoda", as the former was easier to write in brush strokes. The name change also saw the company move away from its farming past, as Toyoda means "fertile rice paddies".
Toyota builds a wide range of vehicles from passenger cars to commercial vans and trucks. Its most famous products include the Corolla, Camry, Prius, and Rav4. These models have been immensely popular for decades for their renowned durability, high performance, and superior technological features. Many of Toyota's cars also feature hybrid powertrains or electric-only power systems for maximum fuel efficiency. The company began to produce vehicles outside of Japan in the late 1950s, setting up a production base in Brazil. Today, the company creates Lexus and Toyota vehicles in different countries around the world.
Read Toyota's history here: http://www.toyota-global.com/company/history_of_toyota/
Toyota has been leading the charge toward greener and more environmentally-friendly vehicles. Its suite of eco-friendly cars led by the Prius has reduced emissions while increasing fuel efficiency – helping to make it one of the greenest automakers on the planet. It has also produced a number of hydrogen fuel cell vehicles that generate electricity through chemical reactions between water and oxygen with virtually no emissions whatsoever.
Toyota is well known for its commitment to quality and innovation. The company places a strong emphasis on safety by testing all its models extensively both in simulations and on real roads throughout the world. Furthermore, it also provides drivers with an impressive suite of features including advanced connectivity platforms, advanced driver assistance systems (ADAS), and advanced infotainment platforms among others to ensure that they remain safe and entertained on the road.
Undoubtedly Toyota remains one of the world's best automakers and its commitment to excellence will surely keep it at the forefront of automotive technology for a long time to come.
Don't miss reading some of our top-rated articles, too.