The Best E-Commerce Start Up Business Ideas For 2014 And After – Major Trends
---
E-commerce has been a growing economic sector for many years now. And its uptrend will probably continue in 2014, too. Considering the fact that only a third of the world's population has regular access to the Internet, the future of e-commerce looks really bright even in the longer term. So if you are going to start a business and you are still brainstorming different ideas, you should seriously think about selling something online. We prepared a cool infographic, on which you can see the best-performing niches in the e-commerce sector for the last year. Actually, the infographic was created by a company called Bigcommerce, which main business activity is creating e-commerce platforms. Those guys have analyzed some data provided by more than 50 000 of their own customers and the picture below is the fruit of their hard work.
The image gives information about the change in revenue, the order size and the new stores opened in some major e-commerce niches. Watching the infographic, we can make many different conclusions about the online market in 2014. For example, even though the biggest revenue growth happened in automotive retailers, the number of home and garden new stores is the highest. This may be a sign that this niche is still untapped and it is among the best for starting a business.
The most potential e-commerce niches for 2014
The future of e-commerce
E-commerce is going to be a 6.4 trillion (with T) business by 2024: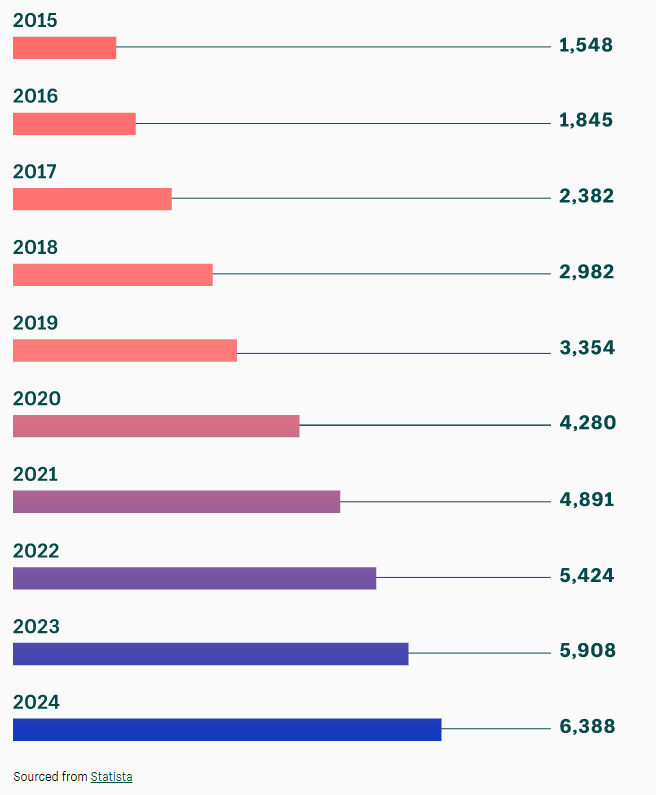 It's no secret that the global e-commerce industry is a rapidly evolving one. Every year brings with it new developments, innovations, and trends that are increasingly shaping the future of online selling. While traditional retail stores will still have their place in the brick-and-mortar world, more and more businesses are beginning to recognize the benefits of a strong online presence.
The first trend that has been taking off is mobile commerce. Mobile devices such as smartphones have become an integral part of daily life for many people, making them a more convenient way to shop online and make purchases whenever it suits them. In 2019, mobile commerce accounted for almost half of all digital retail sales and it's only forecast to continue growing in the coming years.
Personalization is another major e-commerce trend of recent times that is helping to create enjoyable experiences for shoppers. Many businesses are now providing tailored suggestions or offers based upon customer data such as their location, search history and preferences. This helps customers feel valued by having products or services presented to them that suit their individual needs.
The rise of social media commerce is also becoming increasingly prevalent with platforms like Instagram introducing features such as shoppable posts, which allow customers to purchase items directly from their feed without having to switch applications or sites. This bridge between the realms of online and offline shopping is proving itself highly beneficial, with sales increasing significantly when this feature is present on social media channels.