Which city to choose for your startup? The Best Cities For Starting A Business In The US
---
Business conditions can vary significantly in different places in the US. Choosing the right city for your startup can be the difference between failure and success. A company called GoodApril has made research on this matter across the country and has found the top 7 best places for founding a company. They have taken in account 6 important business factors in their analysis:
1. Average tech wages
2. Income taxes
3. Sales taxes
4. Property taxes
5. Housing cost
6. Office prices
After collecting all the needed data, the professionals from GoodApril have come to some interesting results. The best place to start a business in America is Austin city in Texas. San Francisco, where actually Silicon Valley is, turns out to be a bad choice for starting a company, because of 100% higher rental prices, higher taxes, and salaries. You would need around 35%more money, to keep your company operational for a year there.
You can see these, and some more interesting details on this nice infographic here: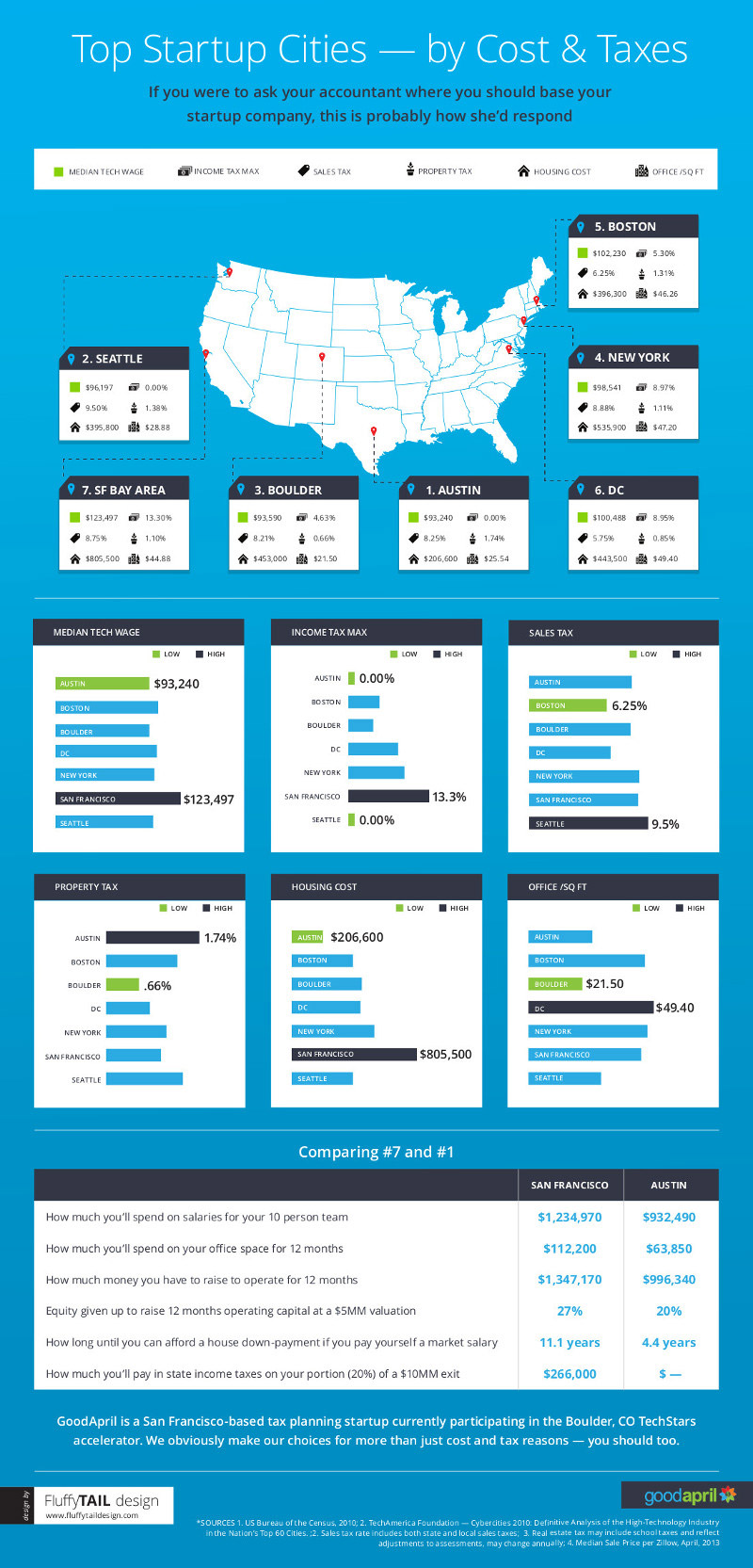 Top places for starting a business in USA, source: www.goodapril.com
Starting a business is an exciting and daunting endeavor. It requires a lot of research, planning and hard work, but the rewards can be very rewarding. The best way to begin is to make sure you understand the basic principles of business and what it takes to be successful.
First, you need to identify the industry that you want to work in and the products or services that you will be offering. This will help you decide on the structure for your business, such as being a sole proprietor, a limited liability company, or a corporation.
Next, you need to do a business plan. This is an important step as it will help you understand the financial requirements and goals of your business. A good business plan should include a business summary, marketing plan, competitive analysis, and financial statements.
You then have to decide on a location for your business. Consider what type of space you need, and think about zoning laws and any special permits or licenses you will need.
You will also need to decide on a pricing structure and set up your marketing plan. This should include a website, social media presence, and advertising. Most businesses need to take out some type of insurance to protect their assets.
Finally, you should consider forming partnerships with other businesses in the same industry. This can help provide additional resources and contacts for your business. It can be a difficult process, but starting your own business can be very rewarding. With a little research and planning, you can ensure that your business is successful.
If you like this article, please like it by a click on the social buttons on your left. You can take a look at some more interesting business infographics going right here: http://businessideaslab.com/theme/business-infographics/