Ning.com – The Start-Up Story Of Mark Andreessen and Gina Bianchini
---
Social networking has been exploding over the last several years. This is how simple ideas like Facebook and Twitter were transformed into multi-billion companies, used by people from all around the world. Many people noticed their incredible success and followed the social trend. Some of them managed to gain popularity even after the big names has already conquered the market. They focused on certain niches like picture sharing, video sharing, etc. Even some teenage entrepreneurs managed to grasp a piece of the tasty social pie. One of them, Ashley Qualls was only 14 years old, when she started her social site. Her story is amazing, you can check it out.
Many different ideas for monetizing the social trend have appeared, and many more are still to come. This article is about another great social business idea – www.ning.com. The site is the world's largest SaaS (software as a service) social platform, which allows the ordinary Internet user to create his/her own social community. Around 2 million customers have taken advantage of Ning's services up to date and their number is rising. It's a paid service, but you can create and customize your new social site in a matter of hours. They provide you with all the needed tools and you can use your own domain name too.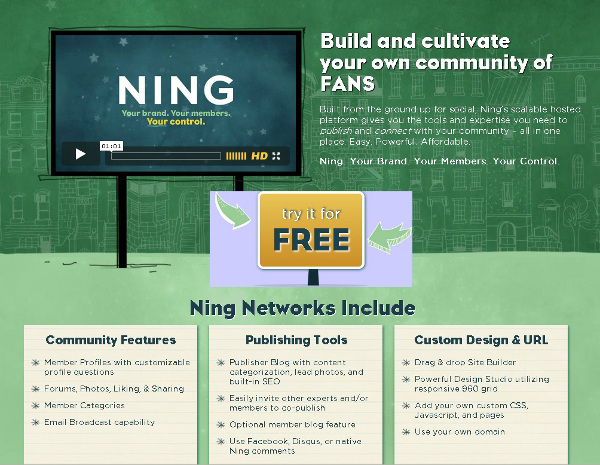 This really innovative idea came to Marc Andreessen and Gina Bianchini, the founders of the site. Ning was started back in 2004 and was publicly launched the next year – 2005. Its name comes from Chinese and means 'peace'. It was initially funded by some angel investors. This was the time when MySpace was the social king and Facebook was just about to be founded. The social explosive has just received ignition and there was a lot of room for growing. This is how the company arranged $44 million in venture funding in 2007 and another $60 million in 2008.
But the great success of Facebook was something that was getting more and more dangerous for the company. Most of people didn't want to create their own social network from scratch, they were happier making simply a Facebook page, which was easier and faster. They didn't want to attract all of their fans, but they used the millions of already registered Facebook users instead. Ning offered more opportunities, but it was paid and FB was free. These were some of the reasons, which made the business model of Ning not that explosive. However, Ning has become a great success after all. Not as big and as popular as the leaders, but still one of the winners of the social game (which is not finished yet 😉 ).
Today Ning hasn't stopped expanding. The site is in the top 500 sites in the world and its yearly revenue is more than 30 million. Recently it was acquired by Glam Media – one of the top Internet companies in the US. Maybe it hasn't had a very successful business model as planned, but it's a really innovative business idea and this is what helped the site to survive over the years.
Since its inception, it has grown in popularity and today is used by brands, celebrities, and groups of all sizes. Ning works by providing a "starter pack" of customizable tools. This lets users easily create a social site with a blog, forums, photo galleries, classified listings, and more. After customizing their site they can then invite friends, family, and colleagues to join in a matter of minutes.
One of the great advantages of using Ning is that it is incredibly flexible and can be used in a variety of ways. Users can create private communities, public fan clubs, or even personal websites. And Ning makes it easy to customize each site so that it fits its needs. This versatility makes Ning a great choice for both small businesses and large organizations looking to create a meaningful online presence.
In addition to customizability, Ning also provides a wide range of features to enhance the user experience. This includes membership management, online payments, analytics, and more. All of these can be used to generate revenue from the site or to simply provide value to its members.
Finally, Ning also provides support for its users. This includes a dedicated customer service team, FAQs, and an active community forum. This help makes it easy for users to get assistance when they need it. There is no doubt that Ning is an incredible platform for creating and managing social networks. Its flexibility and range of features make it a great choice for businesses, organizations, and individuals. With its help, anyone can create and maintain an online presence with ease.
Here is an example of a social network using Ning: www.tudiabetes.org. It is actually a very popular community for people with diabetes.